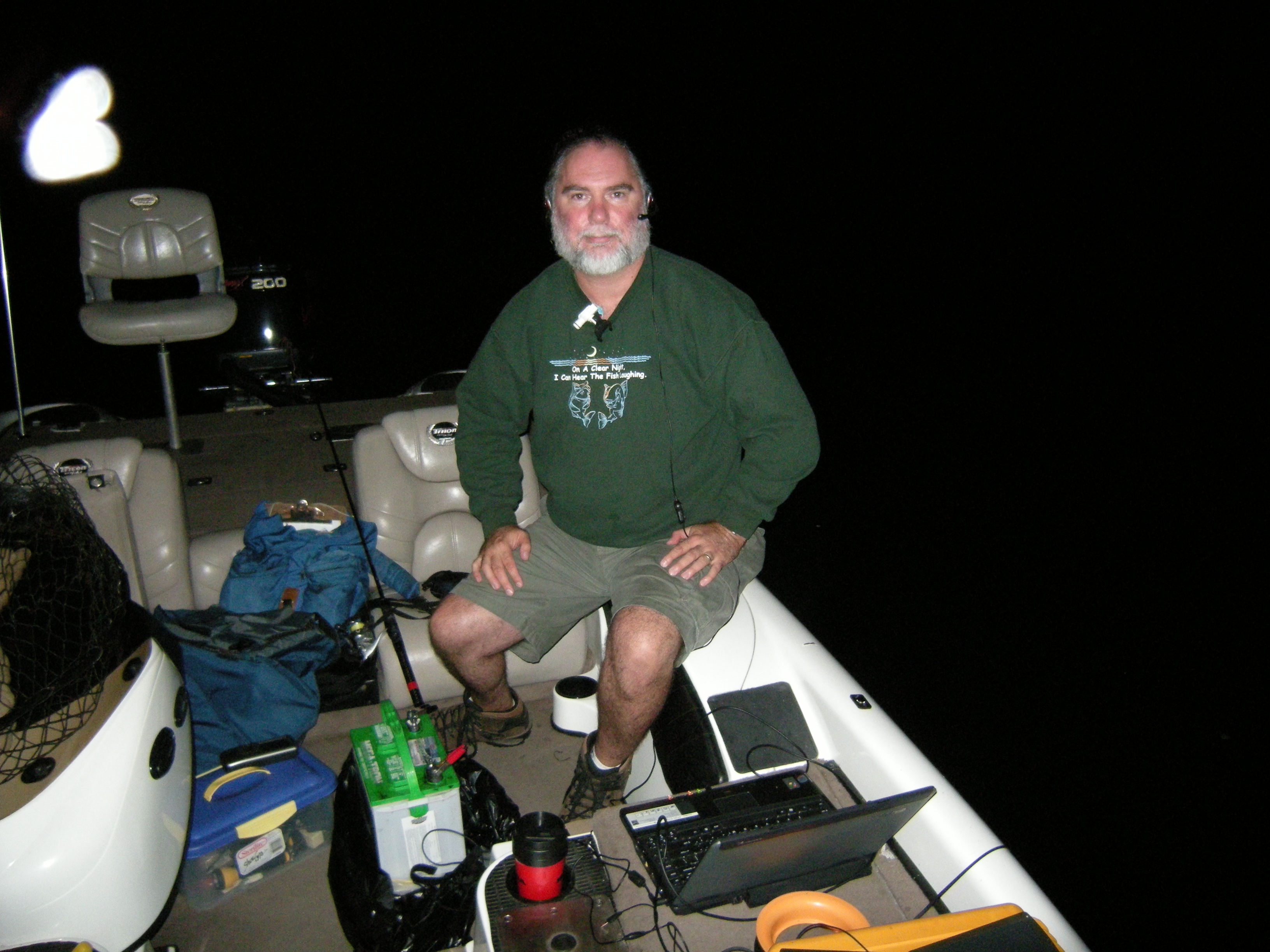 "Listening to Fish" Blog with National Geographic.
Join me, Dr. Rodney Rountree, A.K.A. "The Fish Listener" as I blog about my decades long quest to identify organisms that are responsible for an incredible diversity of unknown biological sounds in oceanic, estuarine, and freshwater habitats.
Also check out my UVIC student, Xavier Mouy's Blog: "The Fish Sound Project Blog"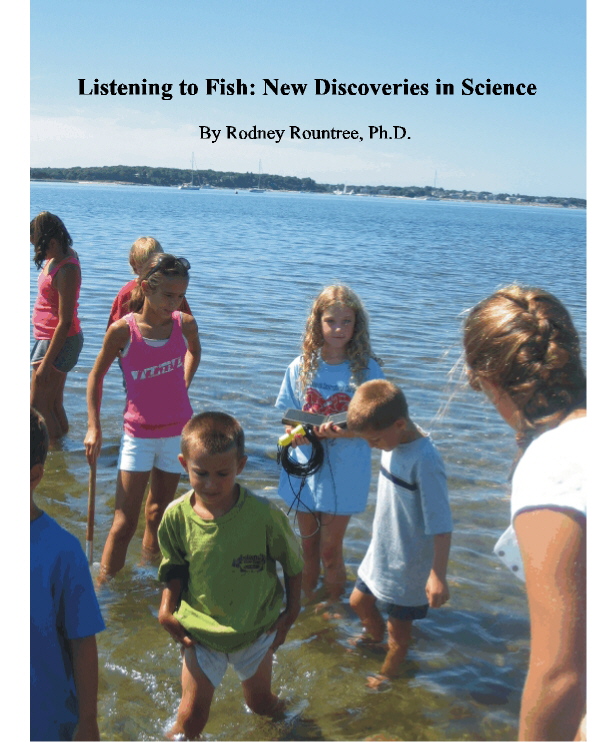 Listening to Fish: New Discoveries in Science.
Do fish make sounds? What do they sound like? Why do they make sounds? These questions are answered in my free multimedia e-book which can be downloaded here. Written in 2005, the book describes passive acoustics and its applications to fisheries and the exploration of the seas. The book is suitable for kids grades 5-12, but has been popular with college students and researchers around the world. A glossary is included with definitions of words highlighted in bold text. The pdf document includes webpage links to sounds and video which will play if you are connected to the internet. Some links may not work if the pdf opens in your browser, so it's better to save it to your pc.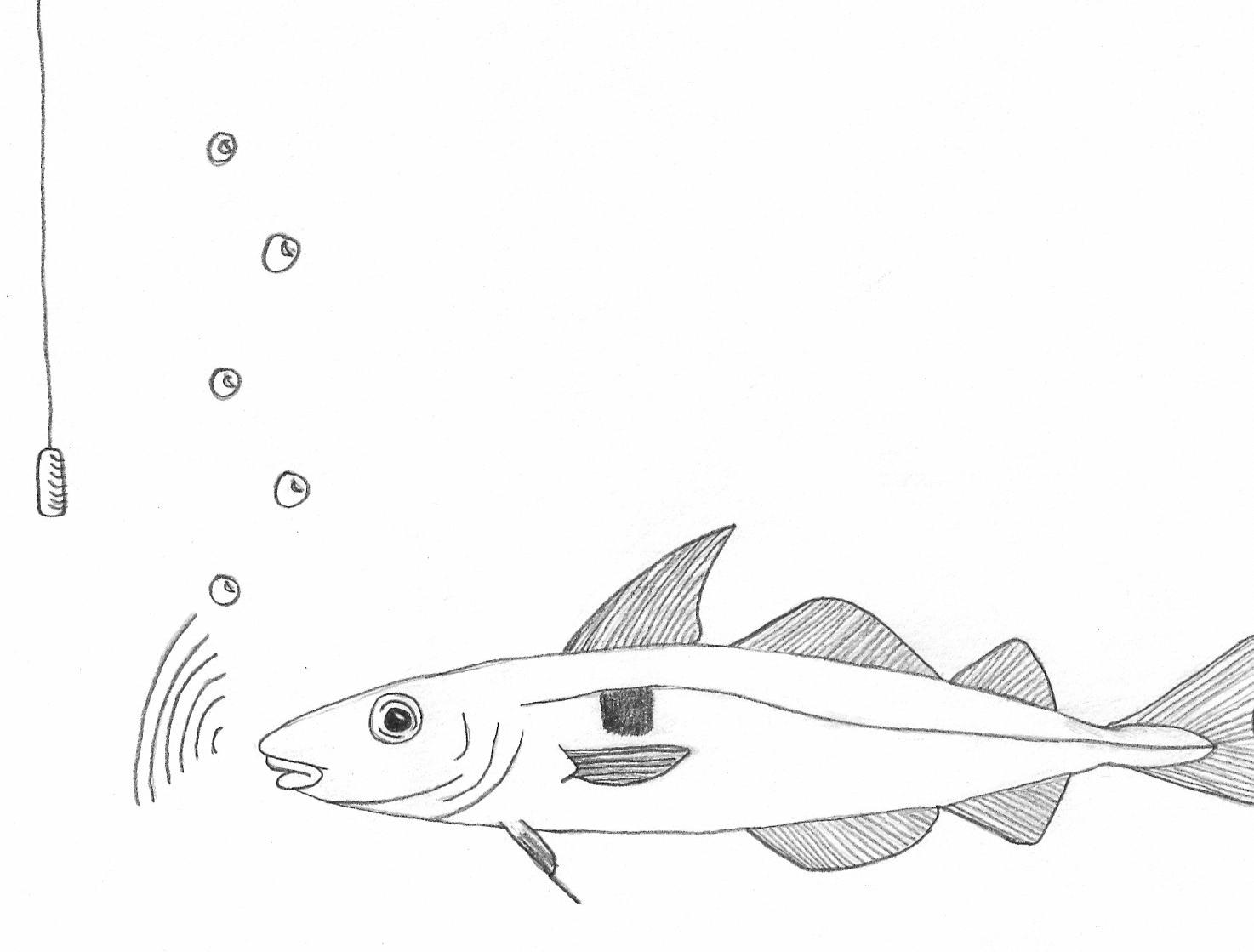 My Gallery of underwater sounds
Rountree's Fish Sound Library - contains examples of most of the fish that I have auditioned or recorded over the last 20 years. To date that includes 113 species or nominal species, of which 60 produced sounds that can be listened to.
Rountree's Aquatic Animal Sound Library - contains selected examples of other types of aquatic animals I've recorded or auditioned.
Fish Songs Ringtones - Want a really cool ringtone for your cell? Go to my ringtone page and download free ringtones of fish fart and other fish sounds.
Miscellaneous sounds - An old archive of fish, biological and other sounds recorded in some past studies. It includes a great many fascinating unidentified sounds.
Fish and Mowbray Archive - Sounds of 17 selected species from the historic library (see also the separate page below describing their important work).
Rountree on Soundcloud - Visit my soundcloud page for examples of fish sounds, habitat sounds, and other misc sounds I've recorded.
How do I listen to fish? Instructions on recording fish sounds.
Carolina fishes - description of some of my recording efforts in coastal North and South Carolina.

Listen to a Florida estuarine soundscape - that I have recorded on vacation with examples of marine catfish sounds and boat effects on toadfish calling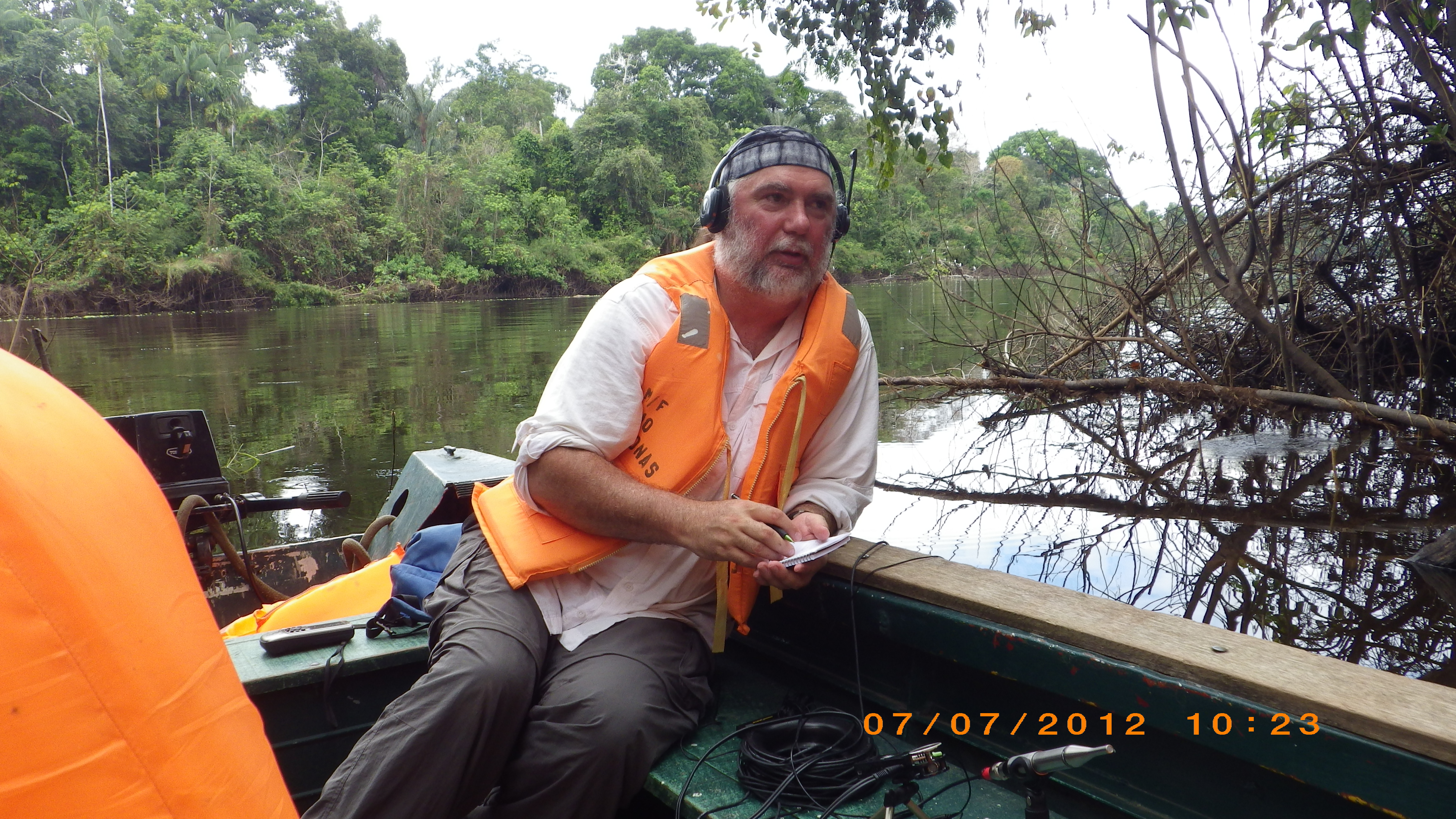 The Amazon Soundscape
In 2012 I joined a research survey of the Pacaya–Samiria National Reserve (PSNR) operated by Operation Wallacea. The PSNR reserve is the largest in Peru, the second largest reserve in the Amazon, is located about 180 km from the city of Iquitos and more than 3,000 km from the mouth of the Amazon. During the survey, I was able to record the ambient soundscape on numberous occassions as well as audition sound production from many species.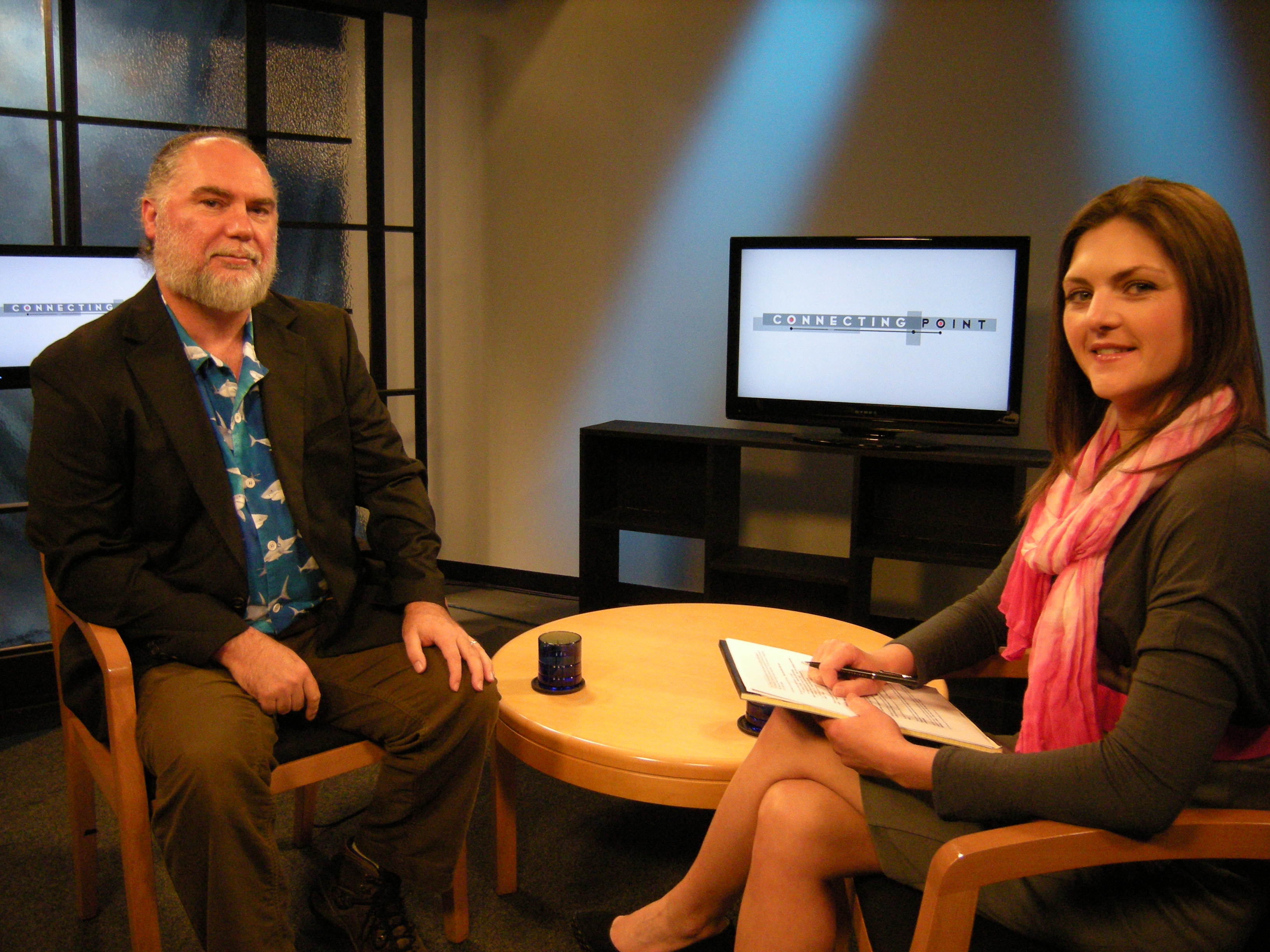 A selection recent media accounts of my work:
The Fish Listener: I was recently honored to be profiled by the Charleston College Alumni magazine by Kelley Fruend, 23 November 2020.
Wait, fish make noise? Meet the 'fish listeners.': By Eva Botkin-Kowacki Staff writer and Rebecca Asoulin Audio producer. Christian Science Monitor, August 29, 2019.
Fish Noises Help Scientists Locate, Understand Them: A Living Lab Radio Podcast on WCAI by Elsa Partan & Heather Goldstone on Dec 10, 2018.
Barking piranhas and screeching catfish are the sounds of the Amazon River: on Quirks & Quarks, hosted by Bob McDonald, CBC Radio, 9 November 2018.
Singing Fish Reveal Underwater Battles in the Amazon": By Christopher Intagliata on November 8, 2018, Scientific American Biology 60-Second Science podcast.
A series of interviews with "Conversationworks": in Victoria, BC in April 2016.
How Fish Noises Can Help Manage Species: Podcast by Beenish Ahmed of WBUR on May 16, 2012.
Interview on "Connecting Point" WGBY: on 9 May 2012 and hosted by Carrie Saldo.
Deep Sea Is Alive with Sound: a Scientific American 60 second podcast by Sarah Fecht, Feb. 10, 2012.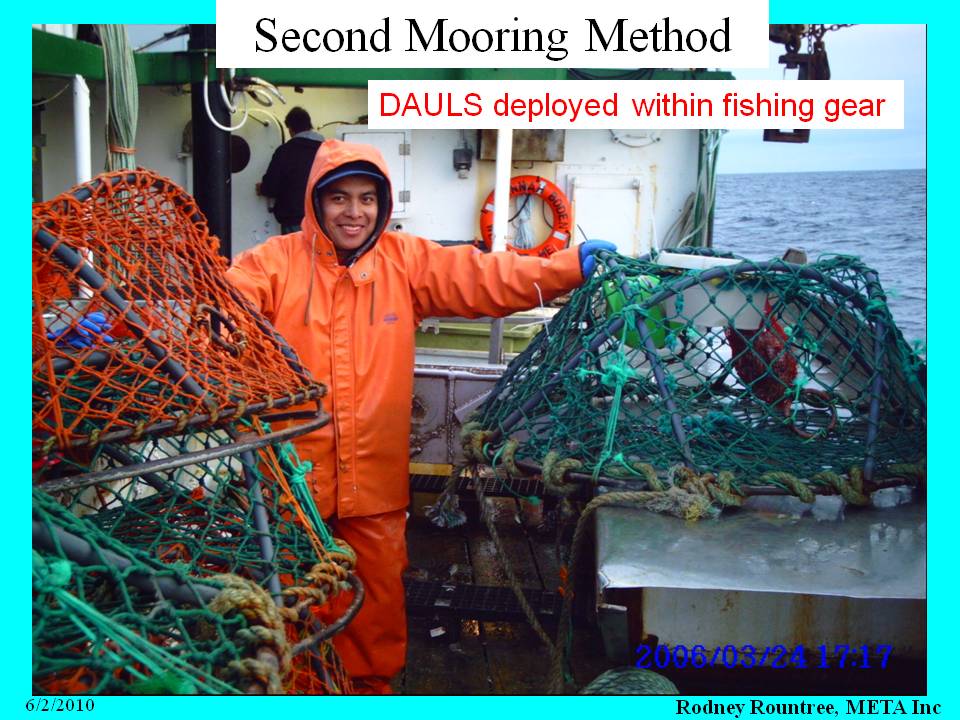 Do deep sea fish make sounds?.
My colleagues and I have begun studies to find out if deep sea fishes are sound producers as hypothesized more than 60 years ago by N.B. Marshall.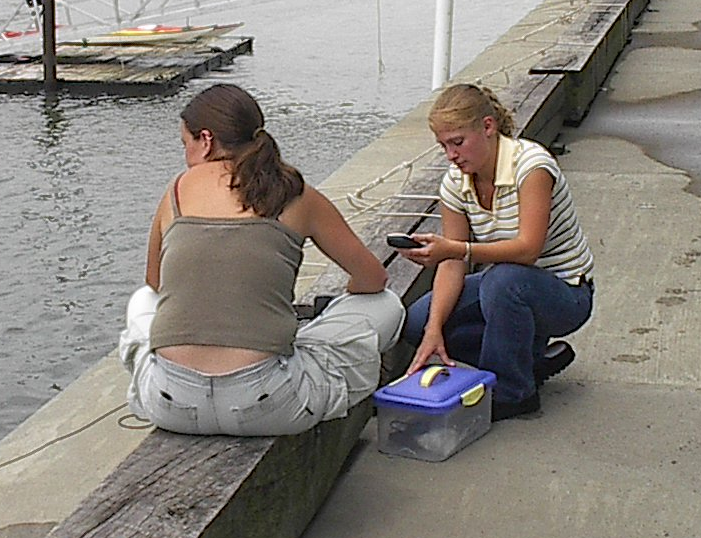 Underwater sounds of the Hudson River at The River Project site in NYC (river mile 2), and at the Tivoli Bay NERR cite (mile 95).
Pilot study of the soniferous fishes of the Hudson River conducted by then undergraduate student Katie Anderson, under supervision of myself and Francis Juanes of UMASS Amherst. We were amazed at the high occurrence of unknown fish and other biological sounds. Katie's 2008 publication in the Transactions of the American Fisheries Society was one of the earliest passive acoustic surveys in freshwater habitats and has stimulated subsequent research around the world in the last decade.
Also read about the project in Post #8 of my "Listening to Fish" Blog.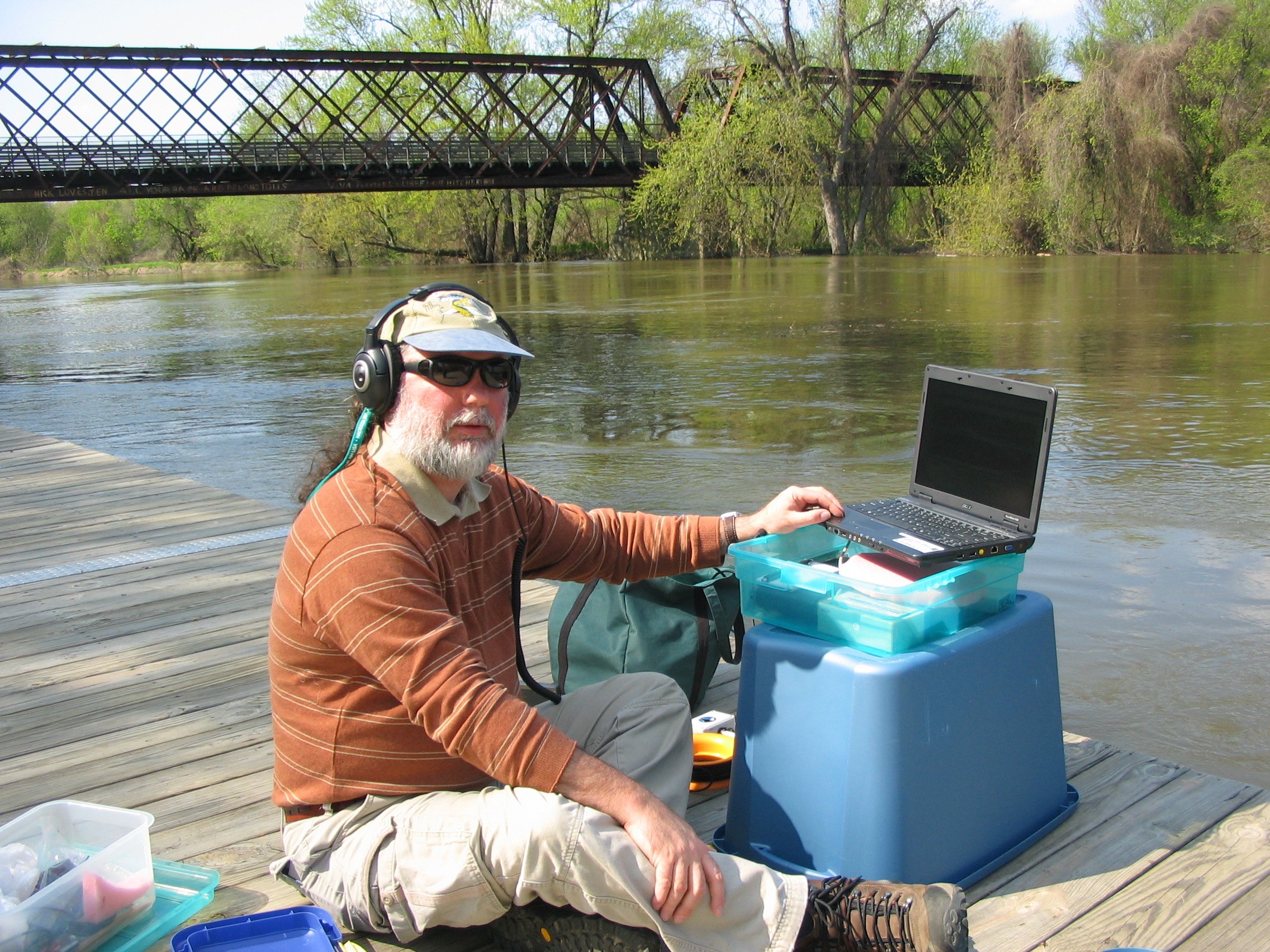 First survey of underwater sounds in the major river systems of New England.
Undergoing new construction
Pilot study to survey the underwater soundscape of five major river systems in New England for the first time. This study has resulted in several publications to date and has generated signicant interest in freshwater soundscapes and noise issues.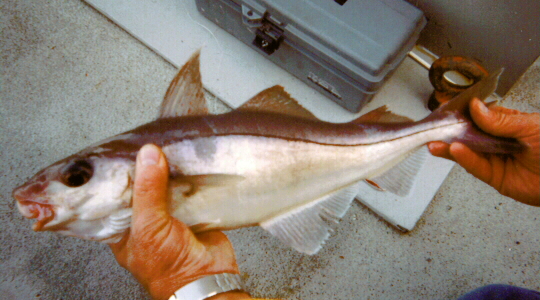 Sounds of haddock
Undergoing new construction
and other fish on the fishing grounds of the Stellwagen Bank National Marine Sanctuary and Jeffries Ledge in the Gulf of Maine.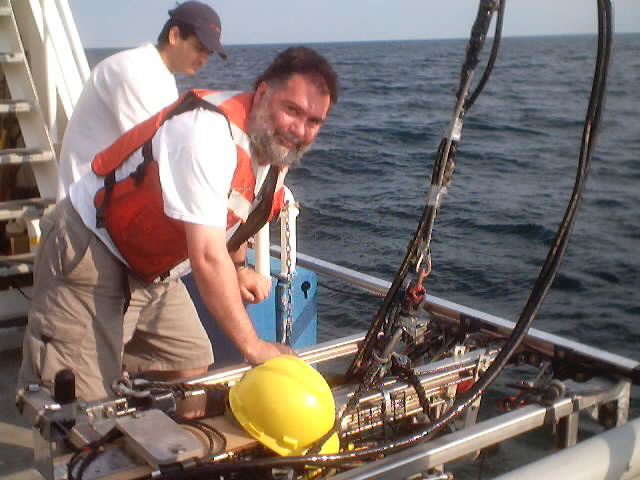 Soniferous fishes on Stellwagen Bank.
Undergoing new construction This page describes our pilot study of the Soniferous fishes of Stellwagen Bank funded by the NE-NURC Program. We were suprised by the low occurrence of fish sounds, but did make the first recordings of cusk (Brosme brosme, not related to the cusk-eel at all) in North American waters.

Underwater sounds from Gilligan's Island!
While on a short trip to Hawaii I had the chance to play around on Gilligan's Island. I provide a brief summary of my exploratory sampling as an example of how one might begin a low budget pilot project in a new area. Along the way, I made the first known recording of the underwater sounds of the marine toad Bufo marinus.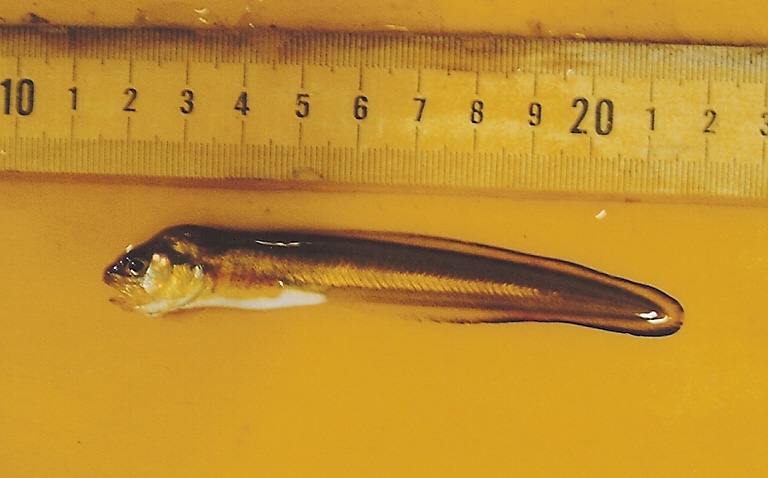 Striped cusk-eel, Ophidion marginatum.
Updated 2021 Field studies of the soniferous behavior and reproductive ecology of the striped cusk-eel, Ophidion marginatum.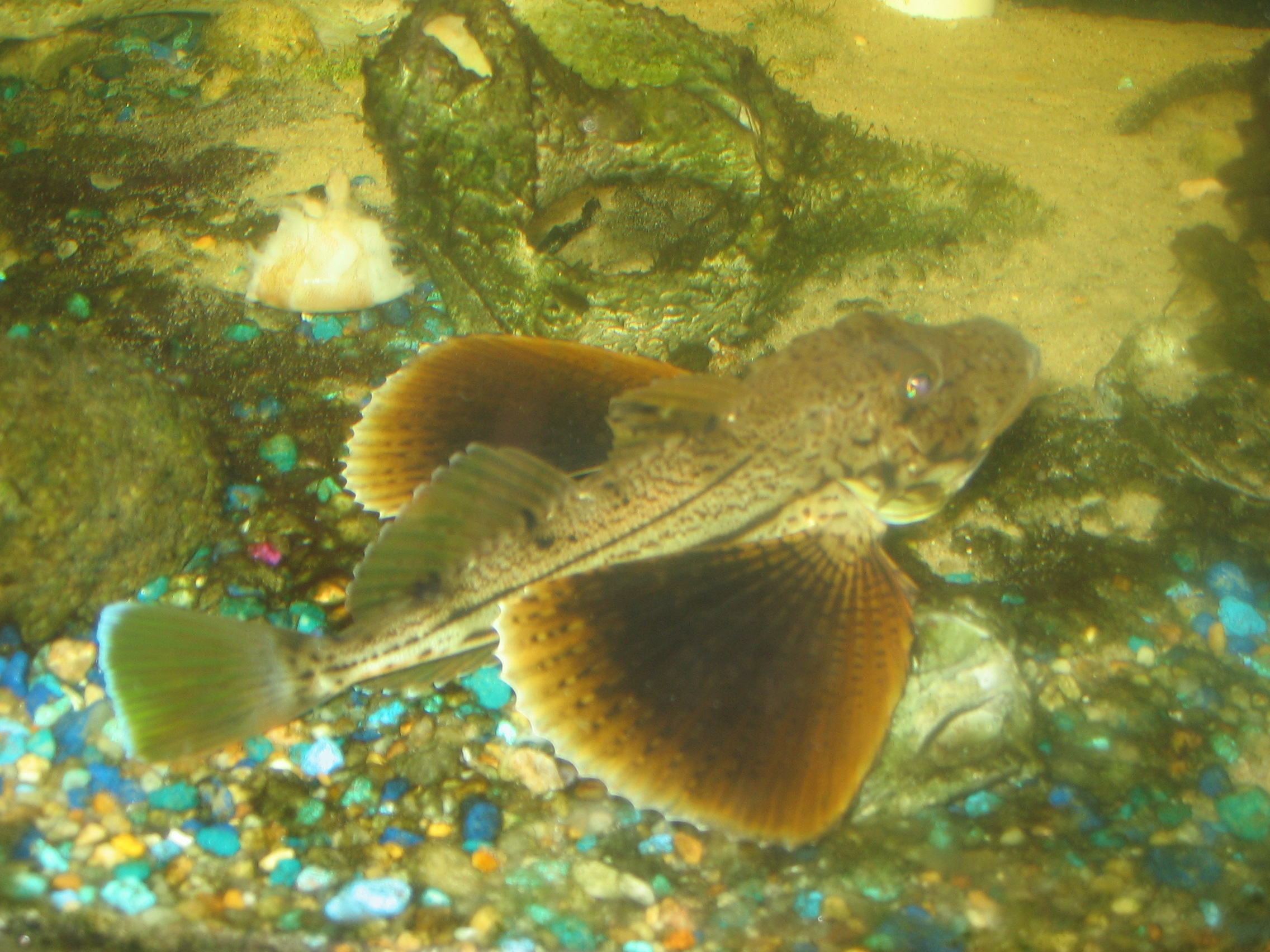 Miscellaneous field studies
This page describes on miscellaneous field studies of soniferous fishes in various localities, including New Jersey, Cape Cod, Massachusetts, Narragansett Sound, RI, and Florida (see also, links under other sections)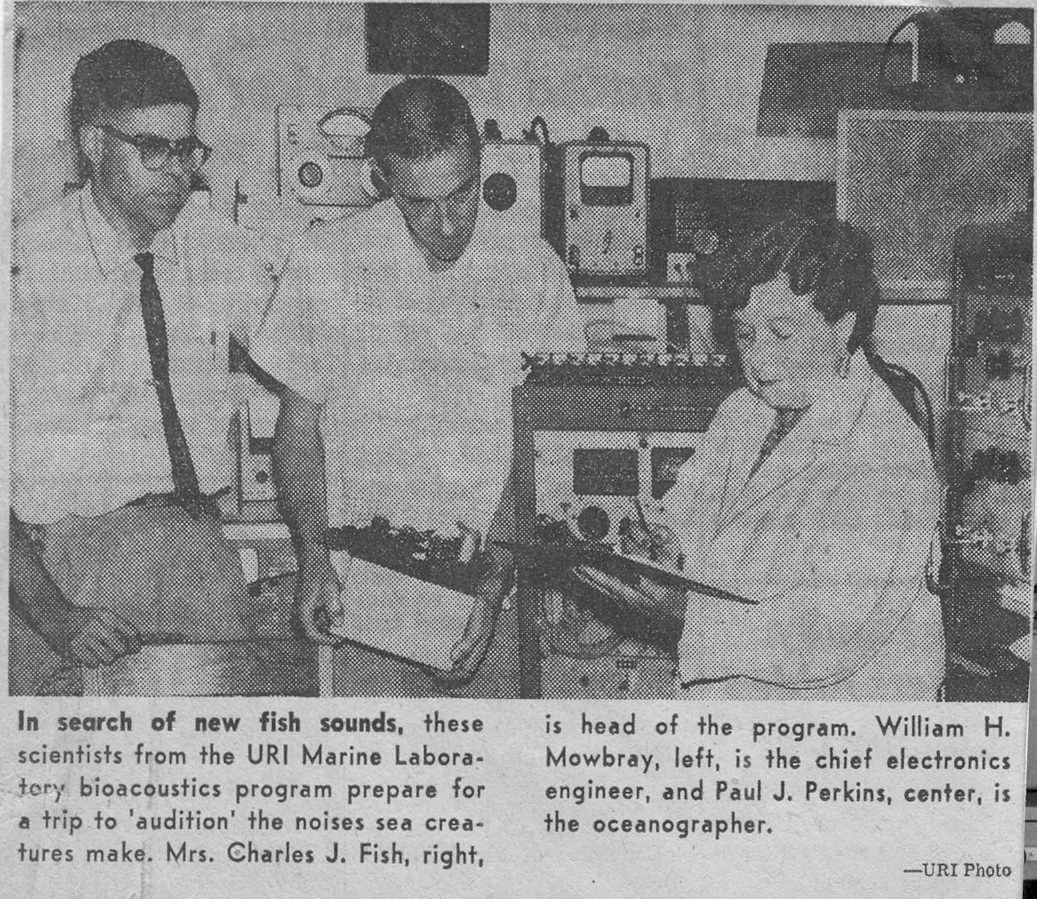 Sounds of NW Atlantic Fishes
This section reviews the historic work of Marie Fish, William Moubray. See especially my summary of the archive and its contents. Further biographical information on Fish and Mowbray can be found in my Listening to Fish ebook. Almost 20 years ago I worked with colleagues to help rescue and archive much of their library of sounds. As a result, sounds of fishes as originally published by Fish and Mowbray in their landmark book "Sounds of Western North Atlantic Fishes: A Reference File of Underwater Biological" published in 1970, are now available from Fishbase.com and the Macaulay Library of Natural Sounds.
Workshop on passive acoustics Publications: In the spring of 2002, I organized together with Clifford Goudey and Anthony Hawkins, the first international workshop dedicated to the application of passive acoustics to fisheries issues: Listening to the Fish: An International Workshop on the Applications of Passive Acoustics in Fisheries, April 8-10, 2002 in Dedham, MA. The 'hands-on' workshop drew over 50 international experts from fisheries, fish biology, acoustics, signal processing, underwater technology and other related fields. The workshop catalized interest in passive acoustic applications in fisheries, and together with a subsequent Symposia at the 2003 meeting of the American Fisheries Society, organized by myself, David Mann and Joeseph Luckovich, signifcantly advanced the field.
Rountree, R.A., C. Goudey, T. Hawkins, J. Luczkovich and D. Mann. 2003. Listening to Fish: Passive Acoustic Applications in Marine Fisheries. Sea Grant Digital Oceans. Massachusetts Institute of Technology Sea Grant College Program. MITSG 0301. 36 p
Rountree, R.A., C. Goudey, and T. Hawkins. Editors. 2003. Listening to Fish: Proceedings of the International Workshop on the Applications of Passive Acoustics to Fisheries. April 8-10, 2002. Dedham, MA. MIT Sea Grant Technical Report MITSG 03-2.
Rountree, R.A., R.G. Gilmore, C.A. Goudey, A.D. Hawkins, J. Luczkovich, and D. Mann. 2006. Listening to Fish: applications of passive acoustics to fisheries science. Fisheries 31(9):433-446.
Luczkovich, J.J., D.A. Mann and R.A. Rountree. 2008. Passive Acoustics as a Tool in Fisheries: An Introduction to the American Fisheries Society Symposium. Transactions of the American Fisheries Society 137:(2):533-541.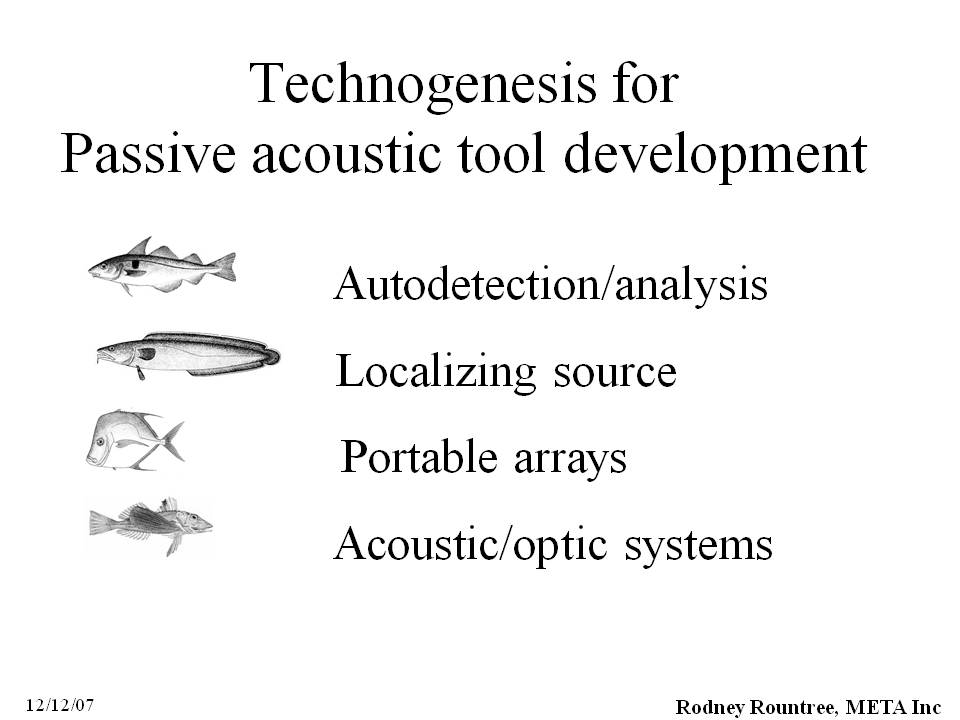 The Future of Passive Acoustics?
Passive acoustic monitoring for fishes has come a long way in the last 20 years, but the advancement has been rather slow compared to our expectations then! We are faced with many of the same technology issues that we discussed back then. For insight on how the field has developed take a look at a couple working documents we produced back in 2002-3. One of my statements back then, that I'm still making, though I sound like a broken record sometimes: "I'm also excited about the potential for collaborations to develop regional inshore and offshore fish "Listening Posts" that can be accessed via the internet by scientists and the general public. I believe these applications will become an important tool for the census of marine life in estuarine, coastal and open marine ecosystems, as well as in freshwater aquatic ecosystems."
Potential applications of passive acoustics to fisheries and aquatic ecology
Funding and research priorities for passive applications to fisheries"
I get a lot of "deja vu" in papers and discussions I see today. For more laughs see some of my old seminars and presentations (view in my CV) from 15 years ago, and my publication Rountree, R.A. 2008. Do you hear what I hear? Future technological development – and needs- in passive acoustics underwater observation. Marine Technology Reporter 51(9):40-46.
and compare that to my recent publication: Rountree et al., 2020. Towards an Optimal Design for Ecosystem Level Ocean Observatories. Oceanography and Marine Biology - An Annual Review Vol. 58:76-106.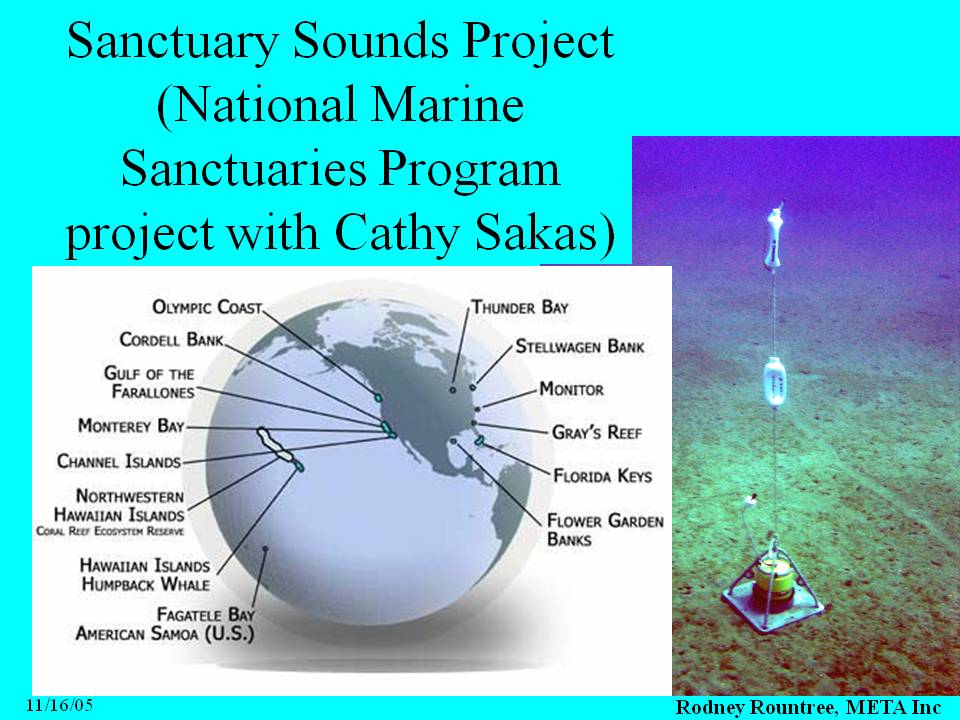 Links to other passive acoustic and fish sound web pages
Archived and dated, but still of some use. I've set up a links page to fish passive acoustics research sites of other researchers. I also include web pages with galleries of fish sounds and some on general bioacoustics and whale acoustics. Links to hydrophone and acoustic software companies are also included.
Copyright © 1999-2021 by Rodney Rountree. All rights reserved